TS1200B
Android 4.22. Screen size 12" LED back light, 4 wire resistive touch screen. compact size, low cost
Date: 2013-07-29
Hit: 1907
TS1200B is Android based touch ECR. The CPU is ARM cortext-A7, dual core, RAM:1G, 4G ROM(Sandisk emmc flash,
NO power failure data loss or system damage problem
)

1.Interface.
From left to right:
1*cash drawer port
1*10/100M Ethernet port
2*USB ports,
2*RS232 ports,
12V DC input
(1*built-in WIFI, *built-in customer display port.)

Cash drawer port can dive 12V cash drawer directly
USB ports can used for USB printer, USB strip card reader, USB scanner.(Note: for TS1200B, the 2 USB ports are located on the front of the panel)
RS232 ports can used for RS232 type printer, especially for Kitchen printer. also can for electronic scale.
2.Display
The front clerk display is 12", sharp or equal brand. LED type backlight.
The rear customer display is LED8.
3.Touch screen
4 wire resistive or 5 points capacitive touch panel can be choice
4.Main board.
ARM Cortext-A7 dual core. PCB layout 6 layers. compact and reliable.
5.Power supply
12V/3A AC-DC switching power supply.
6.Environment
0-40degree
7.Touch Life
10,000,000 times
8.Bulit in software
A.PLUs: 1-99999
B.Departments: 1-99
C.Clerks/promoters:2-98
D:VIPs/Customers: no limited
E:Transaction log: no limited.
G:Amount decimal points: 0/2
H:Decimal pints:0/2/3
I: TAX 1-3 or VAT 1-6
9.Introduction of ECRCN touch ECR APK.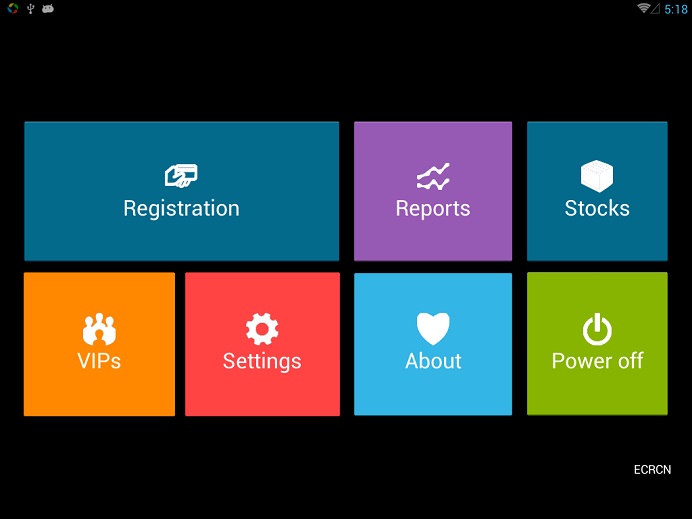 A. Registration mode
1.There is a keypad which can speed up operation.
2.Slider menu which used for unusual functions.
3.There are 4 Table no mode: Any/Auto table no/Input table no manually/Compulsory table no
Any: for normal use. such as retail or fast food.
Auto table no: special design for fast food. the Table no is auto increased.
Input table no manually: special design for fast food. in case of media tend, a pop up window shows to require table no.
Compulsory table no input: design for AFTER PAY. such as restaurant.
4.When table no mode change, the registration screen may change according work mode.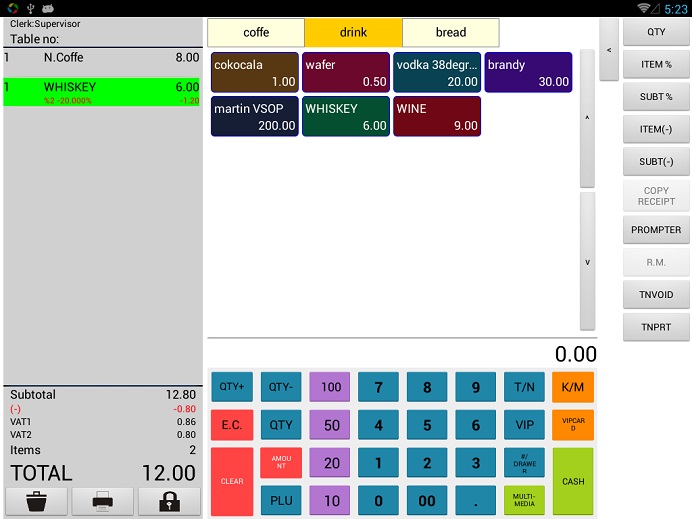 B. Multi-media mode
Here can tender by cash, check, coupon,etc. press "partly paid", show the paid history.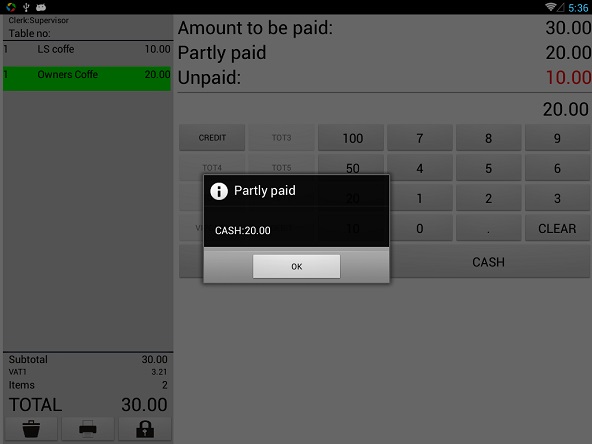 C. Repeat bill fucntion
When table no is as Auto table no mode or input table no manually(fast food mode). a key name"Repeat bill" will show on the keypad. press this key, the last bill's all of PLUs will recall with qty set as "1". This is very useful for fast food.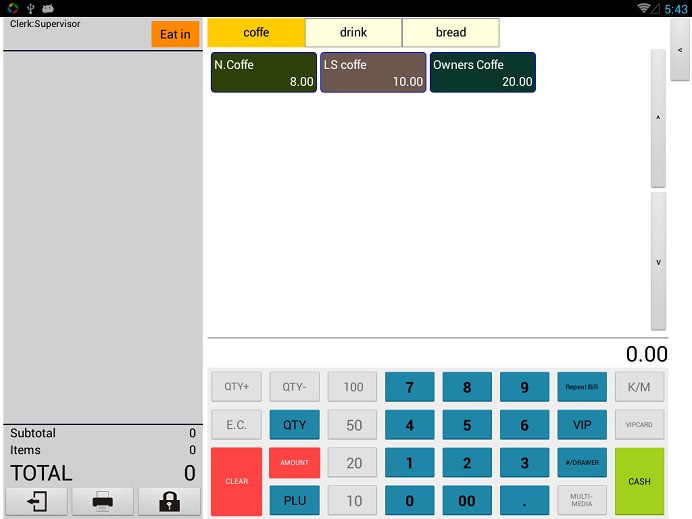 D. Debit customerl fucntion
The APK supports two kinds of customer: Debit customer and VIP customer.
Debit customer: who can deposit/debit, and can debit when his account amount less than the amount to be paid. debit customer can be programmed with auto discount.
VIP customer: who can deposit/debit, when his account amount less than the amount to be paid, he has to pay by cash or other media totals. the customer is prepay customer. the customer can be reward by ACC.Points or VIP level auto discount.
After customer log in. press the area of customer ,will show customer information.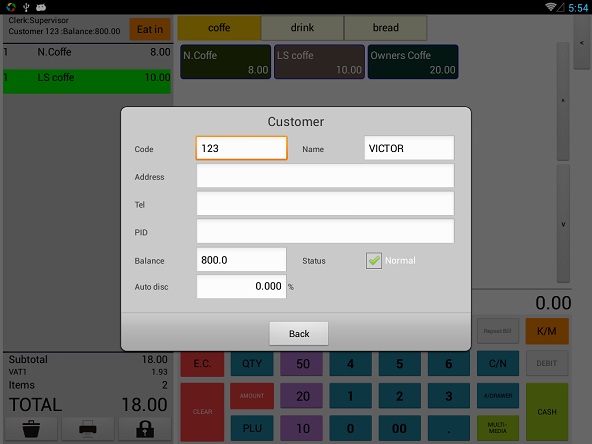 Click purchase list items show the corresponding bill information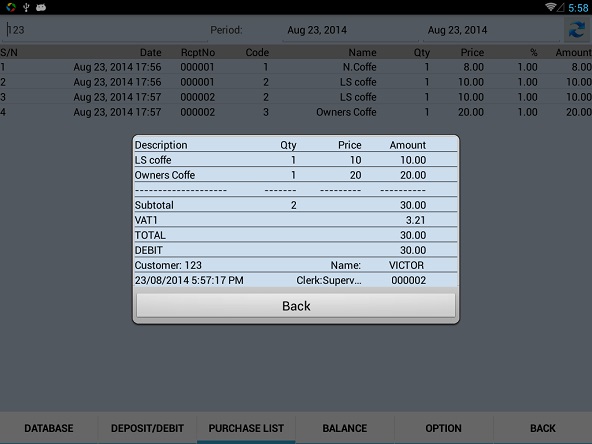 E. Report
The APK supports various of useful reports.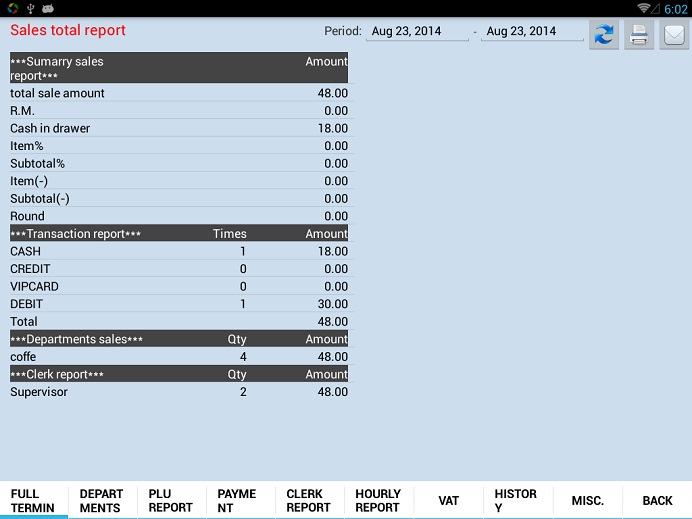 Reports can be saved in Udisk or by mail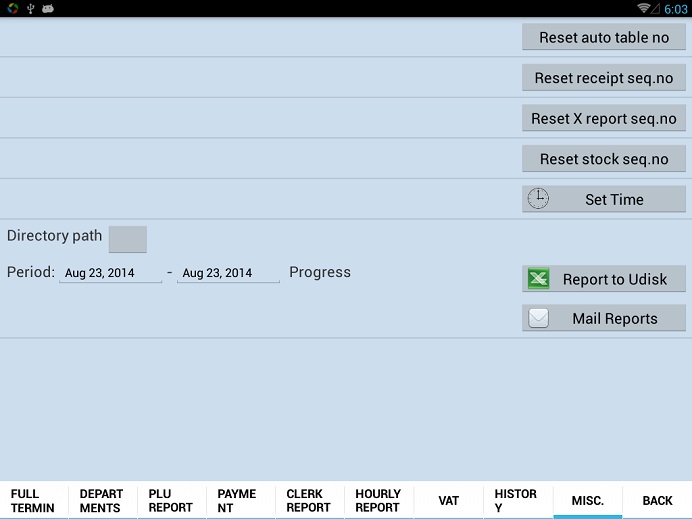 Receipt rebuilt function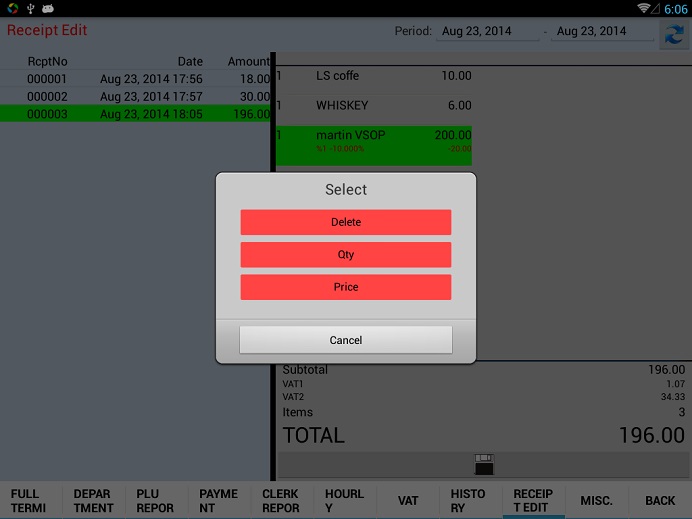 F. Settings
The APK supports department,plu,clerk,VAT/TAX.K/M,Media...programming.
Support ticket mode,store logo print for usb printer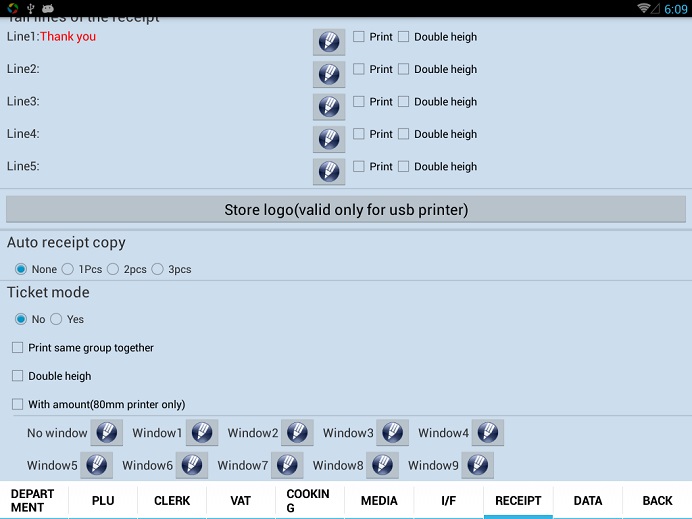 G. UI setting
The APK enable the end user adjust the UI(user interface),adjust PLU price label
A. External receipt printers support: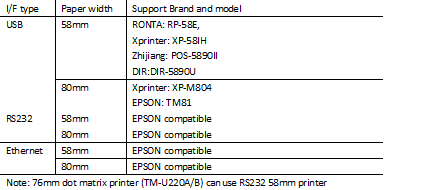 B.External Kitchen printer support:
RS232: both 58mm and 80mm EPSON compatible
Ethernet:both 58mm and 80mm EPSON compatible
C.External Rear display support:

D.Scale support:

E.Scanner support
USB type: data stream: XXXXXXXXXXXXX-CR