APK latest version is V600-190418
Many useful functions to meet customer requirment
The corresponding mobile order is v1.3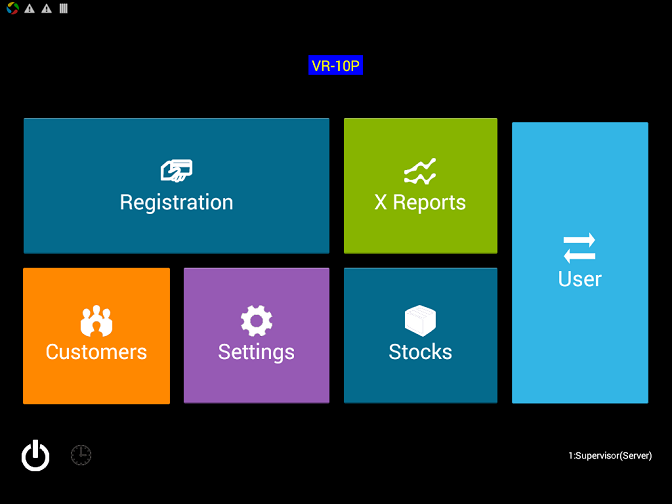 Main function list:
*Standalone application.
Food/Retail and Scale/Label applicability can be selected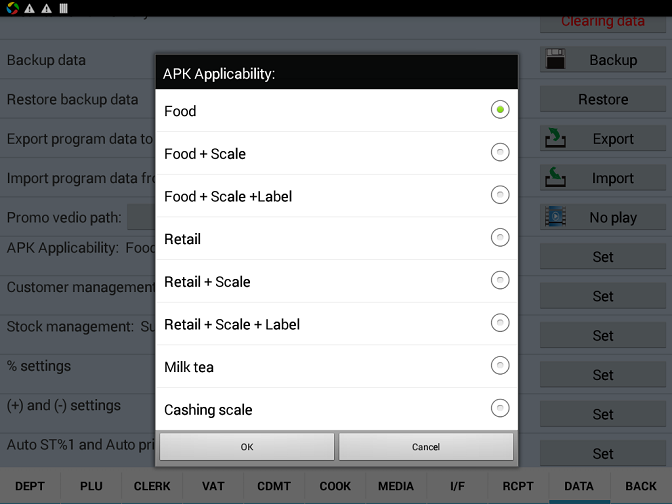 *Work-group(network)application
Server/client mode. Server can merge sales and reports of all clinets
Kitchen printer can be shared
Mobile order support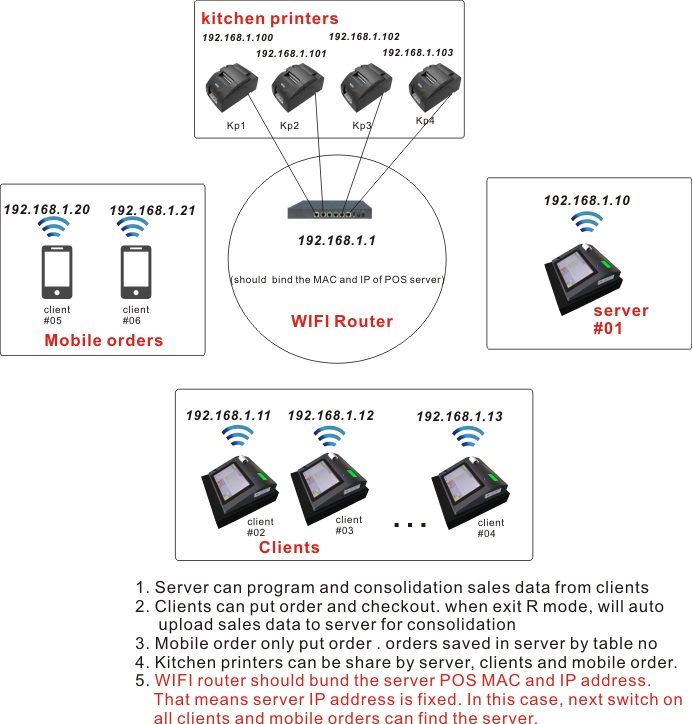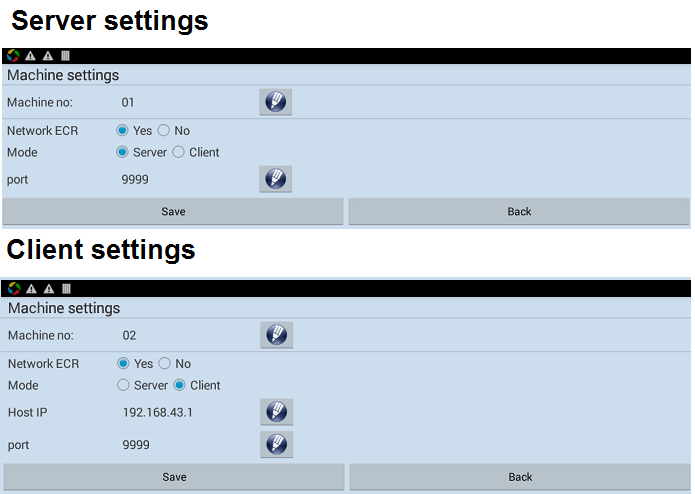 *Licence management
The dealer can rent machine to customer. controlled by licence code.
APK can work half month(15days),1month,2months,.....12months
* Customer function
Deposit/debit,balance, auto discount,view history bought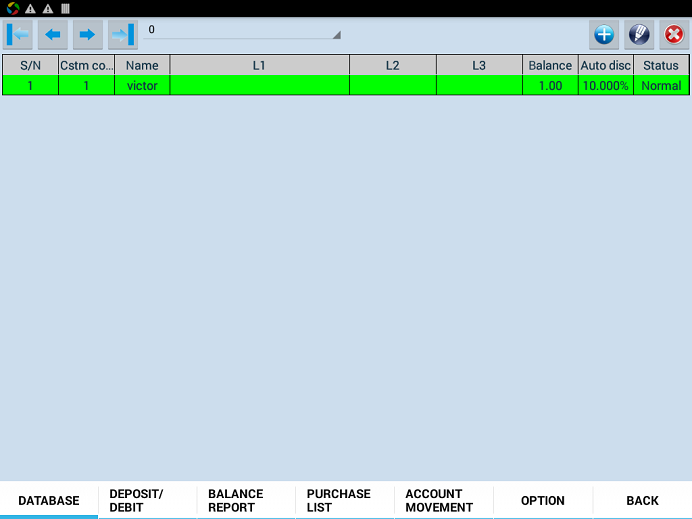 L1-L9 fields description can be modified by user to meet various application.
for example can rename as Address, tel no. ID no, tax no....
* VIP function
Acc point. Deposit/debit/given. levels...
VIP function or customer function can be selected by user.
*Stock management
Safe stock, stock in/out/adjust,movement report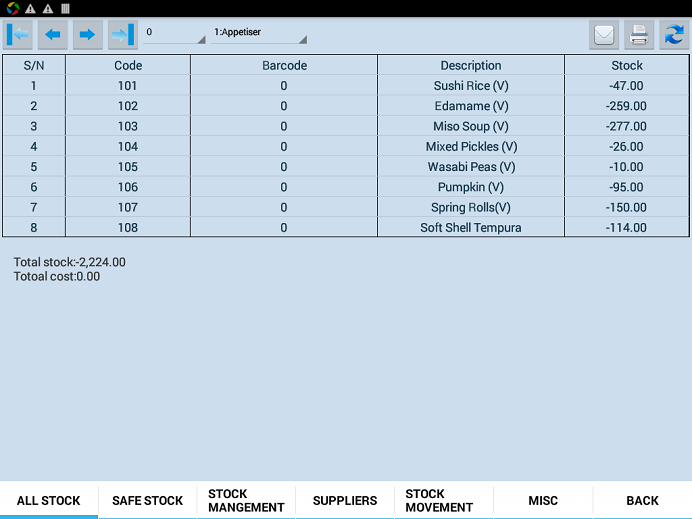 *Reports
Terminal full report
Department,PLU,clerk,hourly, history report to meet customer requirement
In case of network ECR mode, server report can has:
"sales total report"--all machines consolidation sales report
"01-sales total report"--machine no #01
"02-sales total report"--machine no #02 sales(if clients with machine no #02)
"03-sales total report"--machine no #03 sales(if clients with machine no #03)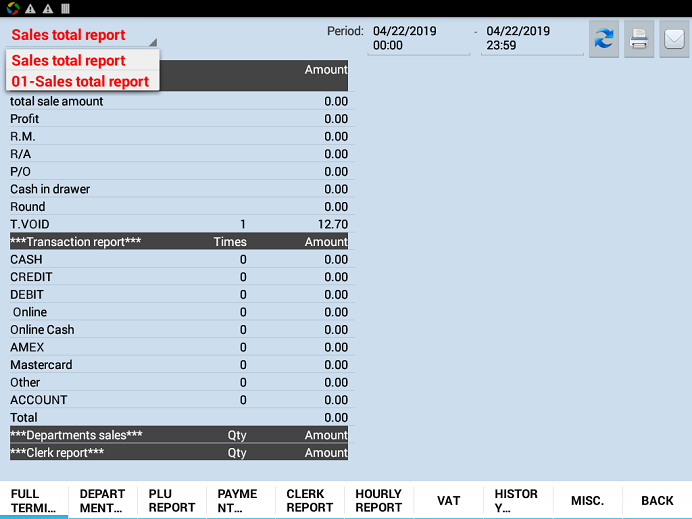 *Email
Can send mail to boss, sale report,stock report....
*Http server
Built in a simple http server, can view all kind of reports
User can use browser to view the reports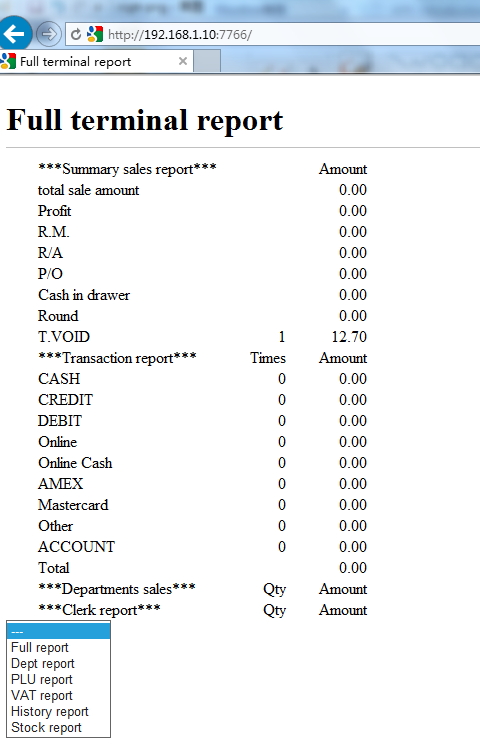 *Registration
small Keypad for quick operation
Department sale, PLU sale.
%, +/-
RM/EC/VOID/TVOID
Open price
Partly bill/split bill
Condiment operation
PLU set menu operation
Table no copy/change/combination
Payment extra charge for credit or other kind of payment.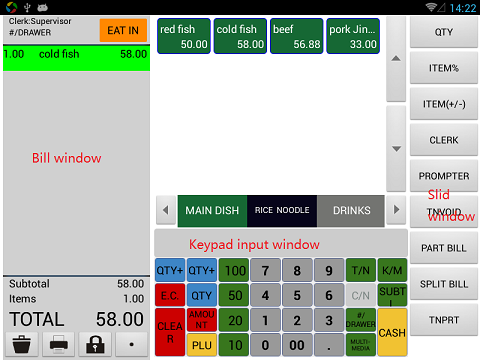 *Programming
Department can sell
Department reverse calculation
PLU Set menu, packet PLU
PLU Condiment
PLU single item
PLU promotion
PLU price level 1/2/3
PLU name. name2 for kitchen printer
PLU barcode can be numeric or alphabet
PLU can be packet or linked with condiment group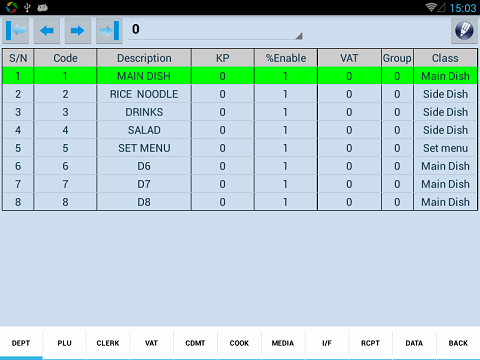 Clerk management
Supervisor/Manager/normal clerk with password control and operation limitations
Training mode support. the training clerk code is 98
Multi clerk operation support
P settings-data-other options-multi clerk allow->yes.
This is good for multi clerk operation same machine. application like haircut shop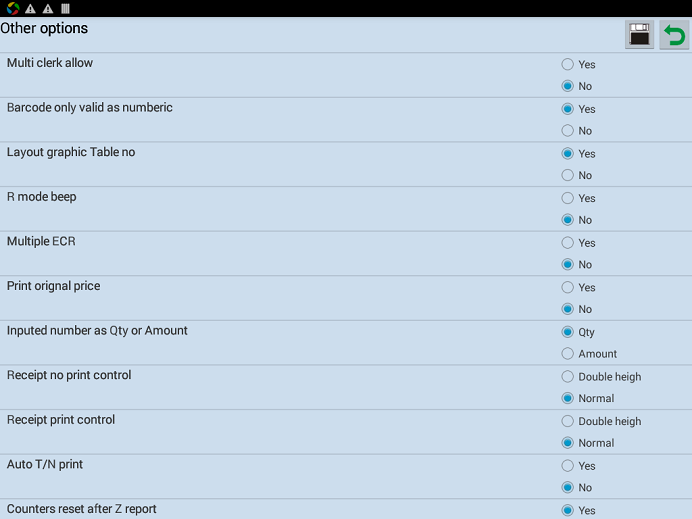 VAT/TAX
Value added Tax or Tax system can be choosed
Cooking message
can with extra charge for special cooking
Media and rounding
Total 9 kind of media, extra payment charge can be add except cash
European rounding,Scandinavia rounding
I/F external device support
USB/Ethernet/RS232 printers can be selected.
For printers:
Support 58/80mm Mini printer, Highly recommend to use Ethernet printer.
Receipt
Header and tail program
Store logo support
3 kinds of bill format can be choosed
DPQA/.QXP2DA/QXPDA
Ticket control.
Printer charset: if not English, please select Unicode.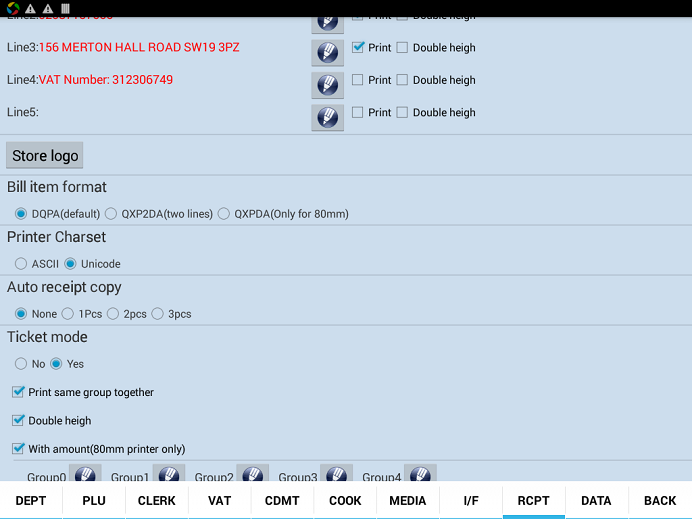 Table no support by list or graphic layout
This is graphic layout, user can change default picture.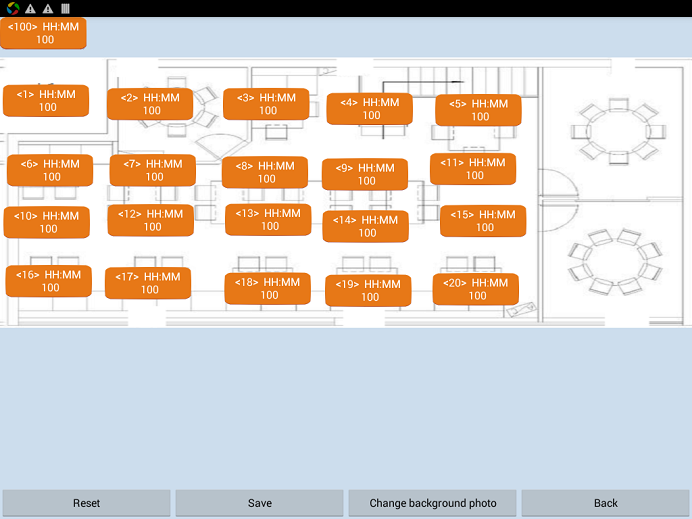 P settings-data-other option, can select layout graphic table no or list table no.
DATA
Backup /Restore function
Export/import to/from Function
Options control
Details control in DATA menu:
such as machine set, label set, keypad set, UI set, decimal point set......
---
Promotion
There are several promotion
1. For single PLU promotion.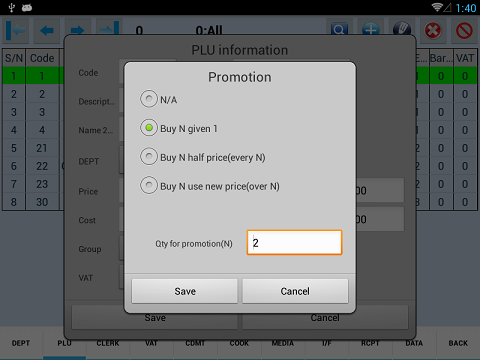 2.All receipts perform %
This is good for new opening shop promotion
3.Auto price level
This is time period promotion. price 2 or price 3 can be used for a certain time period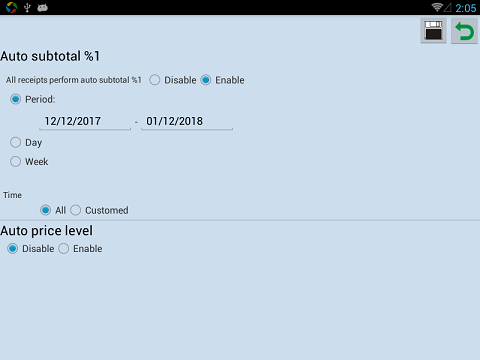 promotion can be disable by:
P settings-other option-promotion allow
---
Split bill
support split bill or AAA pay for the bill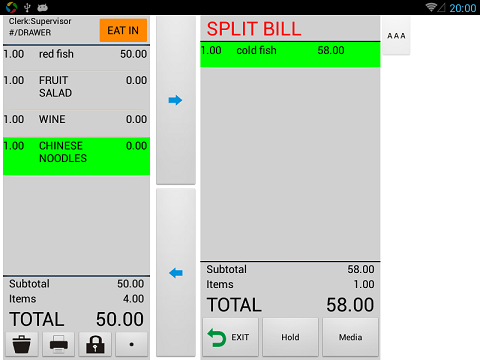 ---
Partly bill
support partly PLUs make a bill to the customer.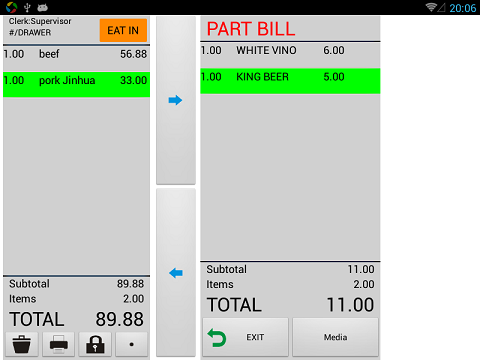 ---
Picture recipe
Either department or PLU can set and show pictures.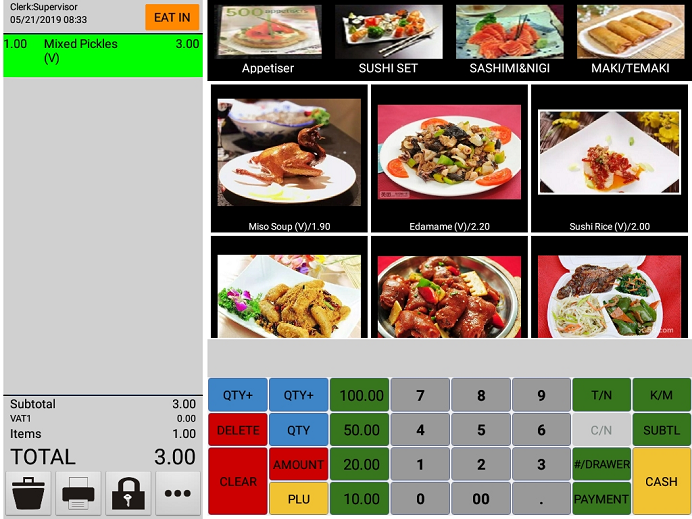 More details contact us please